Press Release—January 8, 2019
Casey Bierlein joins My Member Insurance Agency
My Member Insurance Agency (MMIA) is proud to announce the addition of Casey Bierlein to their staff. Casey has 10 years of experience working with clients in the insurance industry with a focus on Supplemental Health Insurance, Life, Disability, and Medicare. Casey is also a licensed AFLAC representative.
He is a graduate of Frankenmuth High School and Michigan State University with a bachelor's degree in Marketing.
We are thrilled to have Casey join the growing MMIA team as we strategically expand our life and health offerings", stated MMIA CEO Eric Neumeyer. "Casey brings a wealth of knowledge and expertise to our team, including with AFLAC offerings recently tailored to Frankenmuth Credit Union members."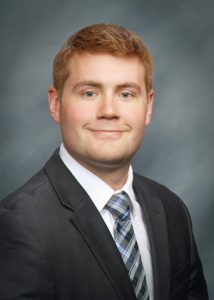 Casey and his wife are blessed with a son, Harvey, and daughter, Molly, and reside in Frankenmuth.
To learn more about My Member Insurance, call us at (989) 781-2662 or use the link below.
We believe you deserve hometown service for your insurance needs.